"le rouge & le vert"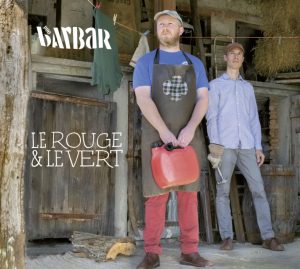 Après leur premier disque "de bars en bals" enregistré en public, le duo BarBar a choisi d'entrer en studio pour leur second album. Entre Occitanie et Irlande, reels et rondeaux se cotoient dans même respect de la cadence, tout en finesse et avec énergie. Guilhem Cavaillé au violon et Olivier Arnaud à la guitare ont paufiné de subtils arrangements et préparé quelques agréables surprises. Bouzouki, mandoline, ukulele et autres instruments se sont invités au fil des plages, enregistrés avec brio par Nicolas Panek.

Guilhem Cavaillé (violon, chant, ukulele basse, batterie) et Olivier Arnaud (guitares, bouzouki, mandoline, violon, voix)
Invitée : Maider Martineau (pandero)
Crédits : Produit par Arpalhands – Enregistré (en mars 2018 au studio 809 à Toulouse) – Prise de son, mixage et mastering par Nicolas Panek – Edition par Nicolas Panek et Guilhem Cavaillé – Photographies Gwen Bovilan – Design Alem Alquier
Boutique : Arpalhands, COMDT, Phonolithe
Titres et extraits audio :

Iheslari (Fandango)

Hughie's cap / The kerryman's daughter (Reels)

Cracouslide / Timmy's Polka / Timmy's Slide (Slide / Polka / Slide)

Magaros / La complete (Scottishes)

The stone outside Frankie's mother's door (Valse)

The Aherlow jig / The rosewood / Kings of Kerry (Jigs / Slide)

Rondeau à Roméo / Branle Carmagnole / Rondeau à Roméo (Rondeaux)

Pourquoi se lever le matin ? (Mazurka)

Bourrée à Ranvier / La Marion Belle (Bourrées)

Barbizon blues

Air de noce / Paddy ramble's through the park (Airs)

Have a drink with me / Anlon McKinney (Jigs)

Castle Kelly (Slow reel)

Bourrée du val / Bourrée de l'apprenti (Bourrées)

Une fillette de 15 ans (Chanson)
—————————————————————————————————————-
"de bars en bals"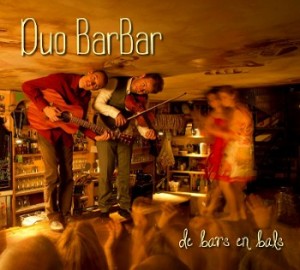 Ce premier album du duo BarBar, enregistré en public, plonge l'auditeur dans l'ambiance de leurs bals et concerts. Guilhem Cavaillé et Olivier Arnaud occupent l'espace, marquent les cadences, prennent des risques et surtout prennent plaisir à jouer. Le répertoire est plutôt traditionnel pour le répertoire irlandais, plutôt composé pour le répertoire de bal, avec des suites improbables assemblant des pièces de ces deux origines. Ils ont fait appel à quelques invités au fil des plages, dont Hélène Lafont qui vient apporter une heureuse touche vocale à cet album instrumental.
Guilhem Cavaillé (violon, pieds) et Olivier Arnaud (guitares, mandoline, banjo ténor, violon)
Invités : Hélène Lafont (chant), Jacob Fournel (low whistle, piano), François Thibaut (accordéon), Xavier Vidal (violon)
Crédits : Produit par Arpalhands – Enregistré (en public les 12 et 13 juin 2012 au Bijou à Toulouse) – Edité et mixé par Nicolas Panek – Photo de couverture de Jean-Robert Loquillard – Design de Julia Kersual
Chronique sur le site http://musette.free.fr (qui a largement inspiré le texte sous la photo)
Boutique : Arpalhands, COMDT, Phonolithe, AlbumTrad
Titres et extraits audio :
Picon / Bière (Congos)

Emma's Waltz / The highlands of Holland (Valses)

Polkamikaze / Music for a found harmonium (Polka / Reel)

Mariezurka / Humors of Ullapool (Mazurkas)

Sonny Brogan's Fancy / Brian O'Lynn / Crabs in the skillet (Jigs)

Tha'm Buntata mor / Eime de roc (Chansons : Strathpey / Scottish)

Trip to Skye / Tendinite / Bourrée du Merle (Valse / Bourrées)

Sans nom / Sans nom / Jimmy Ward's ("Rondeaux")

Un matin à Céret / Scottish à Hervé (Scottishes)

Influence (Valse)

No name / Pyrenean Tune (Jig / Reel)

Tuamgrainey Castle / Fly fishing (Hornpipe / Reel)

The game cock / The star above the garter / The Bunratty boys / Calliope house ("Slides") 

Paddy Ryan's dreams / James Gannon's (Slow reel / Barndance)

A cup of coffee / The return to Milltown / The mother and child reel (Slow reel / Reels)

The smiling bride / Give us a drink of water / Thunderhead / The hag's purse (Jig / Slip Jig / Jigs)